Underground Tunnel Communications 
We Sell Leaky Feeder Systems
April 12th, 2018 : Deep Earth Systems Inc., a premier supplier of underground radio communications for mining & tunnels.  We install &
Distribute leading edge Two Way Radio, and Underground Tunnel Radio Systems for mines and tunnels, including Radio Repeaters, AMPS, Head End Systems, Mobiles & Handhelds. We supply & install Yellow Jacket VHF LF-20-00008 75 Ohm (BV-RNG-500 Varis Replacement) (Also known as 150 LEAKY FEEDER CABLE ) Leaky Feeder Cable to transmit and receive underground communications.
Smartcomm, Commscope Radiax & RadiaFlex cable, otherwise known as "Leaky Feeder", acts as a "leaky" antenna, allowing radio signals to flow from one end to the other, in duplex. For VHF MSHA Systems, our best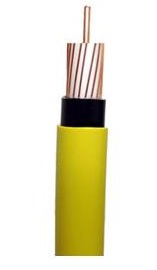 product is PVC LF-20-00008 (BV-RNG-500) VHF Leaky Cable, designed especially for underground Radio communications. The product allows us to implement a solution based on both the initial Construction Phase, as well as post construction, even during active mining and excavation. Leaky feeder is MSHA compliant for use in Canada, the USA and Internationally. Deep Earth  Systems' solutions are custom designed around the Construction Phase of Mines and tunnels, including Gold Mines, Silver Mines, Copper Mines, Tungsten and Coal Mines, as well as Industrial Tunnels, Roadways, Railway, and Utility operations so as to be compatible with any number of protocols that may be encountered along the way. Utilizing VHF Leaky Feader, Commscope Radiax, Smartcomm & RadiaFlex Leaky Feeder Cable is one of many methods used to transmit Radio Communications underground. Approved by MSHA, CANMET and FM Labs as Intrinsically safe.
Contact Us / Order Products